Bryher Campsite
Coronavirus Update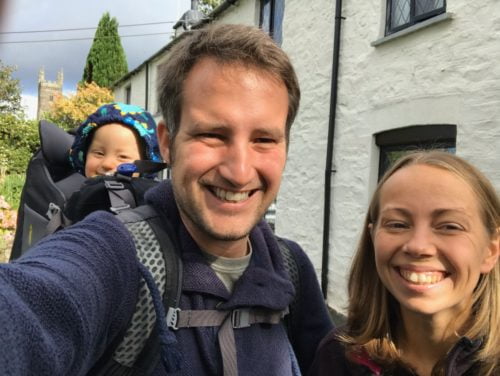 To Our Campers (Updated 26.7.2020)
We hope you are staying safe and well!
If you have a booking with us this summer, we're really looking forward to seeing you!
If you are hoping to make a booking, we have good availability for much of September. We are fully booked for the school summer holidays so cannot accept new bookings (or additional people on existing bookings) for this period. We do not operate a waiting list but any new availability will be advertised on our website and Facebook page.
Inevitably this year, there are some changes in place on the campsite to minimise the risk of Coronavirus. We're delighted at how these changes have been welcomed by our campers and we've outlined the measures below so you know what to expect.
We look forward to welcoming you to Bryher soon,
Tom, Jo & Ollie x
Travelling to Scilly
Scilly is an isolated and vulnerable community. Please do not travel to the islands if you or anyone in your household has Coronavirus symptoms, have had them recently, or have been contacted by NHS Test & Trace. You should also adhere to any local lockdown or international travel restrictions.
Face coverings are mandatory on all transport to - and around - the islands. This includes onboard the Scillonian and Tresco Boat Services, and on quays. You must supply your own face covering and will be unable to travel without one, unless exempt.
All the travel providers have provided their own detailed information on what to expect on your journey to the islands. Please view the relevant advice before you travel:
Scillonian/Skybus | Penzance Helicopters | Tresco Boat Services
Luggage
Please only bring essential luggage this year; weight limits are being strictly enforced to reduce handling. Camping equipment will be carried as excess luggage only if booked in advance. Please keep all bags below 20kg unless unavoidable (e.g. air tents). Heavy Frame/Bell Tents should be broken down to make handling easier.
Please label all items of luggage clearly with your name, contact details and Bryher Campsite before you leave home, to save time on Penzance Quay. At the quay, please attach a green Bryher label to every item.
Isles of Scilly Travel will not accept food, gas or kayaks/SUP boards etc this year. These can all be purchased or hired on the island. You can pre-order food from Bryher Shop and book boat hire with Hut62 or Isles of Scilly Boat Hire. Please email us to let us know what gas you require so we have plenty in stock. We don't make any money on gas and charge you the price we pay.
Arriving on Bryher
Sadly we will have to forego the usual hugs, but it will be smiles all round when you arrive on Bryher - we're so looking forward to seeing you!
Luggage must be unloaded from the inter-island ferry by a human chain, and you will be asked to help in the chain as usual. Please keep your face covering in place throughout and bring hand sanitiser for use before and after handling luggage.
All our staff will be wearing PPE and we will be sanitising the trailer regularly. Please ensure all bags are very clearly labelled to reduce excess handling.
Shower Block
We are cleaning all shared facilities using a Virucidal cleaner, and we're cleaning more regularly and more thoroughly. We're also using a long-lasting surface sanitising treatment for extra protection. However, government advice asks us to make you aware that use of shared facilities does pose an increased risk.
As we cannot clean in between every user, sanitiser spray will be available in the shower block for you to sanitise facilities before and after use. Under 11s must be accompanied in the shower block due to the chemicals and to ensure that facilities are cleaned and sanitised effectively.
There's also hand sanitiser provided for you to use on entry and exit, and face coverings must be worn in the shared facilities. For hygiene, teeth must be brushed at your tent (not at the sinks) and to reduce queues we're also asking that shaving, makeup and hair is done at your tent.
We've also reduced the number of people able to use the shared facilities at any one time. We apologise for any queues, but so far everyone has actually found the new system works really well!
Around the Campsite
Please adhere to all government guidance on social distancing, including contact with people from outside your household and 'social bubbles'. This year, please do not bring friends or relatives to the campsite if they are not staying with us. Tents should be pitched with guyropes at least 2 metres apart. The Games Field will be closed to allow additional camping space if needed.
We provide hand sanitiser, soap and sanitising spray for use in our facilities only. Our supplies are limited; please bring your own cleaning and hygiene equipment for use in your tent and out and about.
Freezers are available but are strictly for ice packs only. The swap shelves are not available this year. The charging points are open but are operating differently this year. There is no locked cupboard, so we recommend bringing battery packs and charging your device at your tent.
Our office is closed but we will be available around the site and by phone if you need us. At the end of your stay, we will email your bill (or print on request). You can pay online by card or BACS, or see us in person to pay with cash.
If you are renting one of our Bell Tents, please be sure to bring a sheet and/or mattress protector. Tents and all equipment are thoroughly cleaned between guests. We have removed the coir matting and rag rug this year to enable more thorough cleaning.
Food & Activities On Bryher
Inevitably, things are a little different on Bryher this year, but the warm welcome is the same as ever. Remember: there may be new rules and signs in place, but you are very welcome!
We ask that you do not bring food this year. It will not be accepted on the Scillonian, but more importantly, our island businesses need your support more than ever.
Bryher Shop is offering an excellent 'Click and Collect' service for campers. The shop is operating reduced opening hours (Monday - Saturday 9am - 2pm), so we strongly recommend ordering food for your first couple of days, in case the shop is closed on your arrival. It's a good idea to pre-order all dry/ambient food you will need for your stay, then you will only need to visit the shop to get fresh food every few days. Click here to place an order.
If you're looking to eat out, Fraggle Rock, Island Fish, Samson Hill Pizzas and Olivia's Kitchen are open with a mix of takeaway/delivery and eat-in options. The Hillside Farm stall is being stocked, plus there's a new Bryher Bake Box! Hell Bay Hotel is closed to non-residents and The Crab Shack is closed.
Hut 62 and Isles of Scilly Boat Hire offer hire of kayaks, SUP boards, sailing dinghies and small motorboats. Golden Eagle Studio and Bryher Gallery are open. Tresco Boat Services is offering a reduced schedule of inter-island boating. Bryher Community Centre is closed, and sadly there will be no Bryher fete this year.
Health on the Islands
Please remember Scilly is an isolated location. Our medical facilities on the islands are excellent but limited. Our nearest acute hospital is Treliske Hospital in Truro on the mainland. If you are in any way medically vulnerable, please consider whether you wish to travel at this time.
Should you develop symptoms during your stay, you must self-isolate and inform us immediately so we can provide assistance, and so we can deep clean all shared facilities. You will receive a test and while waiting for the results you and your group will be isolated on the campsite. We will make you as comfortable as possible, but while we will make toilet facilities available, we cannot guarantee to provide showers during your isolation.
If you test positive and have mild symptoms, you will need to return to the mainland to self-isolate at home. For details how this would work, please see this document from Council of the Isles of Scilly: Frequently Asked Questions: Visiting Scilly During the Coronavirus Pandemic.